Nothing says fall like apple butter. It's a perfect way to use up apples gathered during apple picking or at the store each year. However, apple butter is something I make year round. Making apple butter or applesauce is a great way to use off-season apples that may have lost their peak firm eating texture. If you make more than you can eat up right away, this recipe is suitable for freezing or canning. I'll explain how.
Unlike traditional apple butter recipes, there's no added sugar in this rich-tasting, spiced apple butter. It's versatility makes it a staple in my fridge.
Use it as a spread on

toast,

bagels,

biscuits,

pancakes or

waffles.

Stir it into oatmeal, yogurt, or smoothies.

Use it as a dip for pretzels, graham crackers, or shortbread cookies.
Apple butter doesn't contain any actual butter at all. It is an old-fashioned way to preserve apples that dates back to the Middle Ages in Belgium and The Netherlands. It's a concentrated apple sauce that is combined with spices (cinnamon, cloves, nutmeg, allspice, ginger) and cooked longer until the natural sugar in the apples caramelizes and darkens.
It's giftable! Jars of apple butter make great homemade gifts. Printable labels are provided further down in this post.
A blind taste test: would a secret ingredient improve the flavor?
My goal in developing this recipe was to make apple butter with no added sugar. Although you can totally make delicious apple butter that relies solely on the natural sweetness of apples, I experimented with adding a secret ingredient for additional sweetness and flavor--dates!
I made two batches--one with dates and one without--and solicited some help from the crew at my sons' company, LACRM. I asked them to do a blind taste-test of a couple of batches of apple butter and they were enthusiastically willing to help out. They're nice that way.
I asked them to fill-in their preference on a short survey form. See the results below. The taste-test was completely blind; they had no idea that one batch had dates and one didn't. Batch #1 was just apples and spices, Batch #2 had dates added. Here are the results...the batch with the dates added was clearly the winner. It was considered "more flavorful, more spiced, and richer" tasting. That settled it--my apple butter recipe has dates!
Step-by-step photos for making


Slow Cooker Apple Butter

Step 1. Assemble the ingredients
apples -- I prefer to use apples that are on the sweeter side since there's no added sugar in this recipe. Fuji, Honeycrisp, Pink Lady, Golden Delicious, and Macintosh are good choices. Check out more recommendations in my post Comparing Apples to Apples.
dried Madjool dates -- these add sweetness and deeper flavor
apple cider vinegar -- for flavor and to extend shelf life when canning
vanilla
salt
nutmeg, allspice, cinnamon, cloves and ginger OR pumpkin pie spice (it's a convenient blend of all of these spices)
Step 2. Core and chop the apples. There's no need to peel the apples. The peel softens during slow cooking so it blend into the sauce--you'll never know it's there. The peel adds fiber and nutrients, plus it's easier to not fool with peeling the apples.
Step 3. Remove and discard pits and dice the dates.
Step 4. Combine everything except vanilla in the slow cooker. Cook for 8-10 hours on low or 4-5 hours on high. The fragrant spices will fill your kitchen with a wonderful aroma as it cooks!
view on Amazon: my Crock-Pot Slow Cooker
Step 5. Blend with immersion blender until smooth. (Or, transfer to blender in small batches and blend until smooth. Return blended mixture to slow cooker.) Stir in vanilla. With the lid off, cook on high for up to 2 hours until thickened and dark, stirring occasionally.
view on Amazon: top-rated immersion blender
Get the kids involved! I've made this with my grandkids for a fun activity. They helped with chopping, blending, and stirring.
view on Amazon: kid-friendly knives
REFRIGERATE, FREEZE, or CAN: Refrigerate apple butter for up to 2 weeks or freeze it for up to 1 year. Or, use water process canning to store it jars at room temperature for at least 1 year. Below are the steps to canning your apple butter.

CANNING APPLE BUTTER (Water Processing)
Adhere to canning safety guidelines. It's important to follow the jar preparation and processing recommended by the USDA. If you want more detailed canning information, I recommend the Ball website. They are the ultimate authority, and their site is loaded with detailed information and recipes suited for canning.
For general canning tips, see my previous post,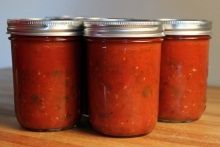 1. Prepare the jars & lids. I use half-pint jars for jam, but you may also use pint jars. Wash the jars in hot sudsy water, rinse and dry them. The jars don't have to be sterilized, since the filled jars will be processed for 15 minutes (as per new canning guidelines from Ball). The washed jars need to be hot when they're filled with hot jam. Keep the jars hot in the canner filled with simmering water. Or, my preference is to put them on a tray in an 180 degree oven to keep them hot until it's time to fill them. I think that's easier that juggling them in and out of hot water right before filling them.

The lids and rings should be washed in hot sudsy water, rinsed and dried. The lids do not have to be kept hot in simmering water according to new canning guidelines.
2. Fill the jars. Use a canning funnel and ladle to fill each hot jar with hot jam, leaving 1/2" headspace.
3. Insert a bubble remover down the side of the jar and pull toward the center to release any bubbles (you can use any long, thin object like a chopstick).
4. Clean jar rims thoroughly with a wet paper towel. If the rims are dirty the jars won't seal.
5. Add a lid to each jar. Screw on a ring until it is "finger tight".
6. Use a jar lifter to lower each jar vertically into the canner of boiling water. There should be at least 1" of water over the tops of the jars. Cover and return water to a rolling boil. Process jars in boiling water for 15 minutes (20 minutes for quart jars). Turn off heat and remove lid; leave jars in hot water for 5 more minutes. (I'm using the Ball Electric Canner in these photos.)
view on Amazon:
7. Use a jar lifter to remove each jar vertically and set on a towel. Leave undisturbed for 12 hours. Within 30 minutes after the jars are removed from the water, you know they've safely sealed if the center of the jar is slightly indented (it shouldn't give when you press it); often you'll hear a popping noise when they seal. If any of your jars don't seal, store them in the fridge and use them within 2 months, or freeze them for up to 6 months.

Below is a photo of my canning set-up when I made apple butter in the LACRM company kitchen (my home kitchen was being remodeled at the time).
For a finishing touch, I like to label my jars. That way they're easy to identify on my shelf, look attractive on the table, and are ready for gift giving, too. Jam is universally loved and fun to share. Going to a party? Grab one of these to take as a perfect host/hostess gift. Need a little something for a teacher, co-worker, or neighbor? You can't go wrong with a jar of apple butter. Print the labels and stick them on the sides or lids of each jar--easy!
Download printable jar labels/tags. These are sized to fit on jar lids (regular or wide mouth) or sides.
Print these on card stock, cut them out, punch a hole on top, and hang them from the jar neck with a ribbon, string, or rubber band. OR
Print them on sticker paper and stick them to the jar or lid. (This is what I do.) Or, print them on regular paper and stick them on with tape.
If you don't have a printer or specialty papers, you can have a store with printing services download and print them for you (Office Depot, Staples, etc.)
Cut with scissors or a circle punch. You can cut the round tags out carefully with scissors, or use a circle punch to make the task easier and more precise. I use a 2-1/4" circle punch; it fits both regular and wide canning lids.
view on Amazon: 2-1/4" circle punch (this fits mason jar lids)
Click on the image below to download & print a full sheet of labels/tags.
One of the benefits of canning apple butter is that you can enjoy it all year long. It is plenty sweet enough to substitute for sugary jam on bread and toast.
Make it a Yummy day!
Monica

Slow Cooker Apple Butter | no added sugar
By Monica Servings: makes 7-8 cups
5.5 to 6 lbs apples (10-12 medium); cored and chopped
1/2 cup chopped dates (5-6 pitted Medjool dates)
1/2 cup apple cider vinegar
2-1/2 teaspoons cinnamon*
1/2 teaspoon allspice*
1/2 teaspoon nutmeg*
1/2 teaspoon ginger*
1/4 teaspoon cloves*
1/4 teaspoon salt
1 tablespoon vanilla
* May substitute 1-1/2 tablespoons pumpkin spice for individual dried spices. Pumpkin spice is a blend of all of these recipe at: https://www.theyummylife.com/Pumpkin_Pie_Spice_Mix

Combine everything but vanilla in slow cooker. Cook on low 8-10 hours or high 4-5 hours. Blend with immersion blender until smooth. (Or, transfer to blender in small batches and blend until smooth. Return blended mixture to slow cooker.) Stir in vanilla. With lid off, cook on high for up to 2 hours until thickened and dark stirring occasionally.

STORE IT: Refrigerate for up to 2 weeks or freeze for up to 1 year. Use water process canning to store at room temperature for up to 1 year.

FOR WATER PROCESS CANNING: Add hot apple butter to hot sterilized jars leaving 1/2" of headspace. Water process in water canner 15 minutes for pints & half pints, 20 minutes for quarts. Turn off heat, and leave jars in hot water for 5 minutes. Remove from canner and let rest undisturbed for 12-24 hours. Store jars in dark, cool place for up to 1 year.

For canning safety:
--Follow jar preparation and processing recommended by the USDA; see canning safety guidelines at http://www.freshpreserving.com

For general canning tips, go to www.theyummylife.com/canning_tips
Here's a behind-the-scenes look at how I photographed the apple butter using only natural window light in the temporary spot I used at my sons' company offices while my home kitchen was being remodeled.